Lean (Purple Drank/Syrup): UK and Ireland DrugWatch Information Sheet
Click the images below to open the relevant pdf file: there is one targeted at professionals, the other at younger people and/or their workers. Please use a link to this page rather than distributing the file: this will ensure that people access the most recent version of the document.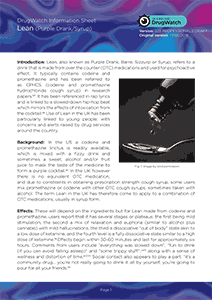 Professionals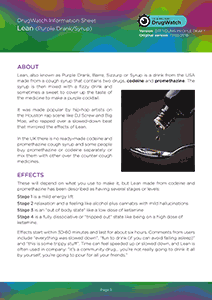 Young people

UK and Ireland DrugWatch are an informal online professional information network established by a group of professionals working in the UK and Irish drugs sector. The aim of the group is to raise/establish standards for drug information, alerts and warnings. It is currently an unfunded, bottom-up initiative that works in the spirit of mutual co-operation. Current members can be found here:
For more details on UK and Ireland DrugWatch:
www.ukdrugwatch.org
.