Tramadol: UK and Ireland DrugWatch Information Sheet
Click the image below to open the pdf. Please use a link to this page rather than distributing the file: this will ensure that people access the most recent version of the document and will allow us to monitor how many people download it.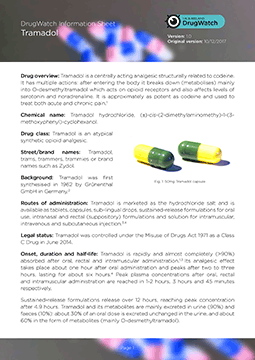 UK and Ireland DrugWatch are an informal online professional information network established by a group of professionals working in the UK and Irish drugs sector. The aim of the group is to raise/establish standards for drug information, alerts and warnings. It is currently an unfunded, bottom-up initiative that works in the spirit of mutual co-operation. Current members can be found here:
For more details on UK and Ireland DrugWatch:
www.ukdrugwatch.org
.